Why No One is Reading Your Content
In our last blog, we talked about producing genuine, professional and quality content being key for your business to stand the test of time, as well as to be seen as an authority figure in your industry. Having structured and straight-forward content that provides value for readers will put your company on their radar – and it's not at all by trying to keep up with Google's countless algorithm updates!
So if you are unsure of whether you're delivering high quality content, have a look at the last post before reading on.
But what good is it to have top notch content if no one sees it?
From reviewing the traditional principles of marketing (The Four P's: Product, Price, Promotion, and Place) we know that where you place your message online is almost as important – if not more – than the message itself. Do not underestimate the importance of placement. Having your content occupy the right platform to build traffic and ramp up your digital presence is a crucial element of digital marketing. You need to get this right, and it needs to be done now to ensure your messaging isn't being wasted on the wrong audience.
This blog will cover 4 important points:
What is placement,
The #1 social media mistake most businesses make,
Paid Ads
Likes, Comments and Shares
What is Placement?
Let's think about traditional advertising for a second. Each out-of-house ad is strategically placed in an area that will (hopefully) be seen by the intended audience or demographic. After all, you wouldn't expect to see an advertisement for men's shaving cream in a woman's fashion magazine, now would you? And this similarly applies in digital marketing: Your messages, posts and ads must go where your audience goes. You need to be advertising on a platform your audience actually uses.
One major disadvantage of using traditional methods of advertising is that, while many people do end up seeing your ad, only a percentage of that will actually be in your ideal target market. Contrast this with  digital advertising – and the beauty is that you can promote to highly targeted audiences and not waste your budget on people who aren't your customers.
The Biggest Social Media Mistake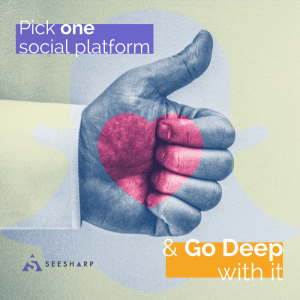 Many novice marketers and businesses make the naive decision to blast their messaging on EVERY platform available. While there may be many pros and cons to duplicating content, it is ultimately the wrong move. You will end up wasting your time and diluting the effectiveness of your reach.
The key is to focus on one single platform and exhaust all of its possible tools before moving onto another platform. The rule is: Go deep, not wide. By developing a strong community through one solid platform,you will be able to establish trust and credibility. We recommend starting by focusing on Facebook – the platform where 2.01 billion monthly users are, and most likely be where your target market are. Explore all the possibilities that Facebook offers and stay up to date with the constantly changing advertising formats as well as trends. Ensure that all of your posts on Facebook (or whichever platform you choose) have a clear call to action. Join Facebook groups, engage and interact with your audience so you can build a community around your brand.
Unless your traffic is moving to a different platform, don't move there. For example, if you're marketing to teenagers, don't waste time on Facebook, Snapchat is your best friend.
But the rule of thumb is – only when you have exhausted all avenues on the original platform can you move onto the next.
Pay Your Way/Getting Eyeballs/The Price of Placement
The advantage of social media marketing is the ability to build and target a very specific audience, and so drive traffic to your brand. Paying for ads allows you to target specific interests and behaviours so your message reaches your ideal customer ensuring every dollar is well spent. So, it will be foolish not to be maximising this outlet.
Forget about organic posts. Attempting to gain traction only through organic posting will take too much precious time to build your audience. Unless you have viral content, you will most definitely be drowned out amongst the bigger players on the net. Buying ads is the only way to avoid this.
It's essential to allocate a budget to boost content. There is currently an enormous opportunity to buy eyeballs at a very cheap price point compared to traditional marketing methods. This Facebook statistic shows that you can buy 1000 impressions for approximately US$7.34. What's more, it is cheaper with proper targeting: In our experience, our acquisition cost for 1000 impressions has been between $2-4 AUD.
But the take home message is that in order to execute effective social media advertising, it needs to be done now. Leaving it too late will leave you in the dust of the major corporates. Do it now while it's still affordable, or you could lose out. Just think about it, you're probably already spending $4 a day on coffee anyway, so why shouldn't you allocate the same for your advertising too.
However, if this sounds a bit overwhelming, it might be a wise idea to first evaluate if your business is ready for social media marketing.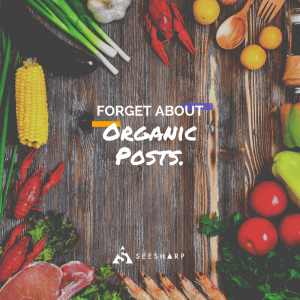 Sharing is Caring
The last, and definitely not least, benefit of strategic placement is sharing. The sharing of your posts gains the most leverage and helps your brand expand its reach for free. This is a tangible result. The intangible result is that when someone shares your content; it implies that they are compelled to do so as it is a part of their identity. When someone can identify and relate to your content, it means you are hitting the nail on the head.
The shareability of your posts is a key indicator of its quality.
Putting it All Together
The best utilisation of your content is to put it in the right place. There's no better way to execute a successful digital marketing campaign without strategic placement. And there's no better time to start buying ads than now.
In the final installment of this mini series, we will look at how to combine quality content and strategic placement to achieve the end goal: conversion.
Read the first post on creating quality content here.